Well, just for the day.
My talented artist friend Helen from Busy Bee Studio in County Durham arrived at The Bastle the other day armed with her paints and brushes.
Having briefly discussed the idea of painting a bunch of keys and a brace of grouse on the lime plastered walls….she set to work.
First came the bunch of keys in the living room, hanging on a hook,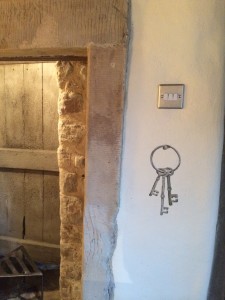 I love the way she painted the hook on the plaster crack line, almost as if it cracked when the nail was "hammered' in.
Then came the grouse by the back door in the kitchen,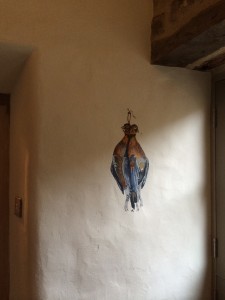 Don't they look like as if the local Gamekeeper had opened the door… and popped them on the hook?
She also wrote a warning for tall people, ' Duck or Grouse'  before they go through the original low doorways in the living room and landing.
I am really delighted with her work and it has given the Bastle a touch of fun.
We also have another plan for the inglenook fireplace, but that is for another day.
Watch this space…
Thanks Helen
* Thanks must also go to Bumble Donkey, one of Helen's donkeys, who donated his hair for the plaster walls and if you look closely you can see bits of hair beneath the paint *
http://thebastle.co.uk/wp-content/uploads/2014/09/image18.jpg
1348
899
julie oswald
http://79.170.40.45/thebastle.co.uk/wp-content/uploads/2013/04/web-logo3.png
julie oswald
2014-11-03 16:54:56
2017-10-19 08:51:02
Resident artist.....